Your Visit
Welcome to the Eye Center of Natchez, Inc., where L. Douglas Smith, M.D. and staff are dedicated to providing professional timely care in a compassionate environment.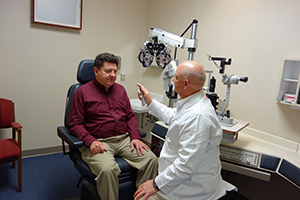 For your convenience, we have made Patient Registration available through our Patient Portal.  Please click on the Patient Portal link above and create an account.  Complete the registration process before your visit and this will reduce your waiting time at check in.  Please bring the following with you to your appointment:
Driver's license or picture ID card

Medical Insurance cards

List of all current medications you are taking including eye drops
We verify all insurances prior to your visit and will inform you at check-in of any deductibles or co-pays that need to be collected.  At the end of your visit we will collect your co-pay, refraction fees, and payment for any services not covered by insurance.  We currently accept cash, checks, debit cards, Visa, Master Card, and Discover.
IMPORTANT!
If this is your first visit for a comprehensive eye exam, please expect to have your eyes dilated. Dilation will cause you to be light sensitive and decreases your near vision for approximately 4 to 6 hours. We encourage you to bring sunglasses and a driver with you. At your visit, our Certified Ophthalmic Technicians will discuss with you the reason for your visit and any concerns you may have. They will also perform many of the special tests necessary to prepare you for a thorough eye exam. Dr. Smith will discuss his findings and treatment as needed. When your exam is completed, feel free to browse our Optical department! We will assist and educate you on the latest advancements and styles in eye wear. Worried about missing your next appointment? Our state of the art Appointment Reminder System will call you two days prior to your appointment to remind you of the date and time, and to bring the above information to your visit. We can even remind you of your appointment by text message if you so choose. Please make sure our office has your primary contact number so that you are guaranteed to receive notification of your appointment.